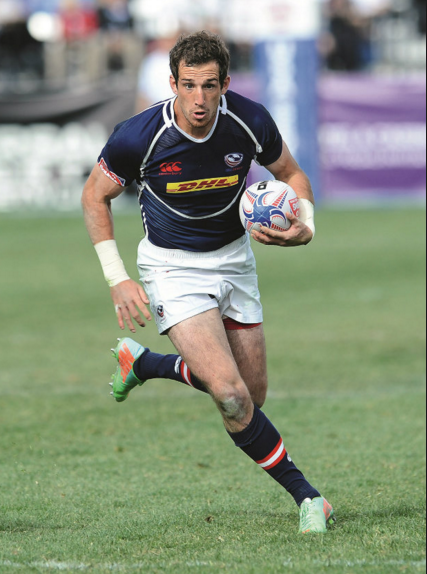 Zack Test made his sevens senior debut during the 2008-09 Sevens World Series and represented the United States at the Hong Kong, Adelaide and London Sevens that year. Test quickly became a regular for the U.S. team, playing for the US in every tournament in the  during the 2009–10 season.
Test also played for the U.S. in every tournament in theIRB World Series during the 2010–11 season. Test led the U.S. team during the 2010-11 IRB World Series with 24 tries and 120 points, scoring 6 tries at the 2011 Hong Kong Tournament. Test also played for the US at the 2011 Pan American Games, helping the U.S. team to win the bronze medal.Test's performance throughout 2011 for the US national team earned him the Rugby Mag 2011 Men's 7s Player of the Year award.
He has emerged as one of the best players on the U.S. team. During the 2011-12 IRB World Series, Test broke the  U.S. national sevens career record of 47 tries. Test is also one of the best on the IRB circuit in catching kicks from restarts, using his 6'3″ height, his jumping ability and his excellent hands to haul in the high ball. Test has a reputation as one of the best players in the game at catching restarts. Paul Treu head coach of the South Africa Rugby Team, has stated that when it comes to catching kicks, Test is "one of the best players in the business."Test finished the 2011–12 World Series leading the United States with 21 tries.
USA Eagles
Test debuted for the Eagles 15's side in 2015 against Samoa. He represented the US at the 2016 Rugby World Cup , including playing against the South African Springboks
Maccabiah Games
Test played for the United States Maccabiah rugby union team at the 2009 Maccabiah Games and was instrumental in helping the squad win the bronze medal beating the Israel National Team. Test was on the 2013 Maccabiah Team but was unable to play due to a injury incurred the week before at the Rugby Sevens World Cup in Russia.
In 2017 Zack was instrumental in coaching the side. The team won the Gold medal in fifteens . The second time the USA has accomplished this feat, Zack was also named as the Flag Bearer for the entire USA delegation for the opening ceremonies, the highest honor to be bestowed on any Maccabi athlete.